On March 1, in the Olympic Glory Hall of the headquarters of the National Olympic Committee of Belarus honored the winners of the XIV Winter European Youth Olympic Festival, which was held from 10 to 15 February in Sarajevo and East Sarajevo (Bosnia and Herzegovina).
From the Bosnian capital, Belarusian athletes, who were represented by 46 athletes in six sports, brought three awards. Bronze medalists were Eugeny Puzanov (figure skating) and Yana Dombrovskaya (short track), the U-17 ice hockey team led by coach Pavel Perepekhin won silver awards.
Not only sportsmen, but also coaches, including the first sportsmen mentors, received monetary incentives from the National Olympic Committee of Belarus. Certificates received: bronze medalist (figure skating) Eugeny Puzanov and coaches Irina Tokarevskaya and Rafaniya Goncharuk; bronze medalist (short track) Yana Dombrovskaya and coaches Artur Soliyenko and Olga Migdaleva, as well as team leader Julia Elsakova; silver winners (U-17 ice hockey team) Vitaly Antonovich, Kirill Buynich, Daniil Veremeychik, Maksim Voitovich, Valery Zhigalov, Vladislav Zalesinsky, Egor Klavdiev, Dmitry Kuzmin, Maxim Lemeshevsky, Miroslav Mikhalev, Nikita Mytnik, Nikita Parfenyuk, Vitaly Pinchuk, Herman Pirogovsky, Oleg Pozhigan, Ilya Spat, Alexander Suvorov, Egor Yuzlenko, Kirill Yaruta, Mark Yaruta, as well as representatives of the coaching staff Alexei Vinokurov, Pavel Perepehin, Eugeny Letov, Dmitry Filippovich, Alexander Zhavoronok, Nikita Starovoytov, Boris Shanin.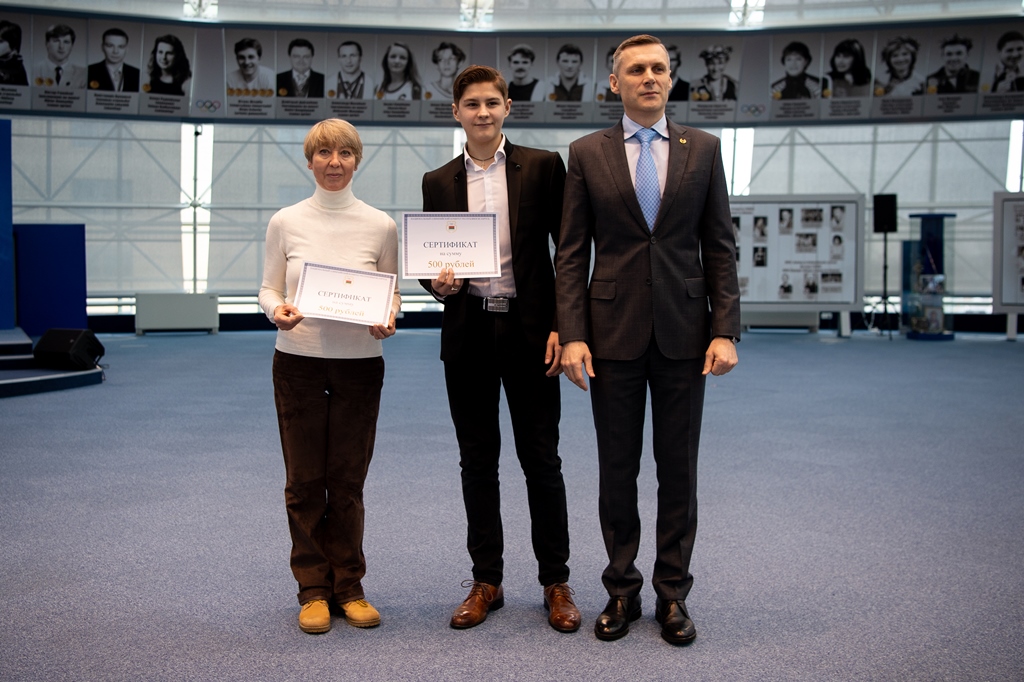 Medalists were congratulated by the First Vice-President of the National Olympic Committee of Belarus, noting the performance of each prize-winner: "I hope that Eugeny did not demonstrate maximum opportunities in Sarajevo. With the care of good coaches, we will go further in order to approach Beijing-2022 fully armed. Yana showed a good result. We supported you from the qualification to the final. A separate topic is the performance of hockey players. Many thanks to the boys and their coaches. In sports there are moments when you can get lucky or vice versa. Athletic happiness passed us, but do not despair. Nevertheless, stability is a good sign. The second consecutive winter festival Belarusian hockey players bring silver awards. Successes your team, health and excellent performances".
Eugeny Puzanov spoke in response on behalf of the athletes. The figure skater thanked for the opportunity to represent Belarus at the international level, the support that was felt even in Sarajevo, and expressed the hope that success at the festival is the beginning of a great sports way.