A joint meeting of the Athletes Commissions of the National Olympic Committee of Belarus and the Russian Olympic Committee (ROC) was held at the National Olympic Committee of Belarus on 27 April.
Leading athletes of the two countries discussed the interaction and steps to protect athletes at the international level in the context of the politicization of sport. Another item of discussion was participation of representatives of the commissions at the National Athletes Forum due in Minsk on 28 April.
The joint meeting was chaired by head of the Athletes Commission of the NOC of Belarus Aliaksandr Bahdanovich (sprint canoe) and head of the ROC Athletes Commission Sofia Velikaya (fencing).
Following the meeting, the parties made a joint statement. When talking to the press Aliaksandr Bahdanovich and Sofia Velikaya noted the need to provide conditions for the professional development of Belarusian and Russian athletes.
"Support for Belarusian and Russian athletes is very important right now. In the current situation, we are especially keen to protect young athletes who are just starting their professional careers. Belarus and Russia have a well-developed sports infrastructure, and together we must hold competitions so that athletes of both countries continue to hone their skills, grow professionally and achieve success. As for the international agenda, Belarus complied with all the rules, but now we proceed from the situation that is emerging," Aliaksandr Bahdanovich said.
"It is a pleasure to visit Minsk and meet our colleagues from the Athletes Commission of the NOC of Belarus. This is the first time that we have met in such a format and we are really eager to share our experience. We are already working on joint projects to hold joint seminars, training sessions, and tournaments, in addition to those that are already in place. The main thing is to support each other and stay in shape. Russian and Belarusian athletes have been suspended from international competitions. We strongly disagree with this decision, but hope that the situation will change. Athletes from our countries have to be prepared for that. They have to develop, to be stable mentally, not to stop at the level they've reached," Sofia Velikaya said.
The famous fencer, two-time Olympic champion Sofia Velikaya also donated her saber to the museum of the NOC of Belarus.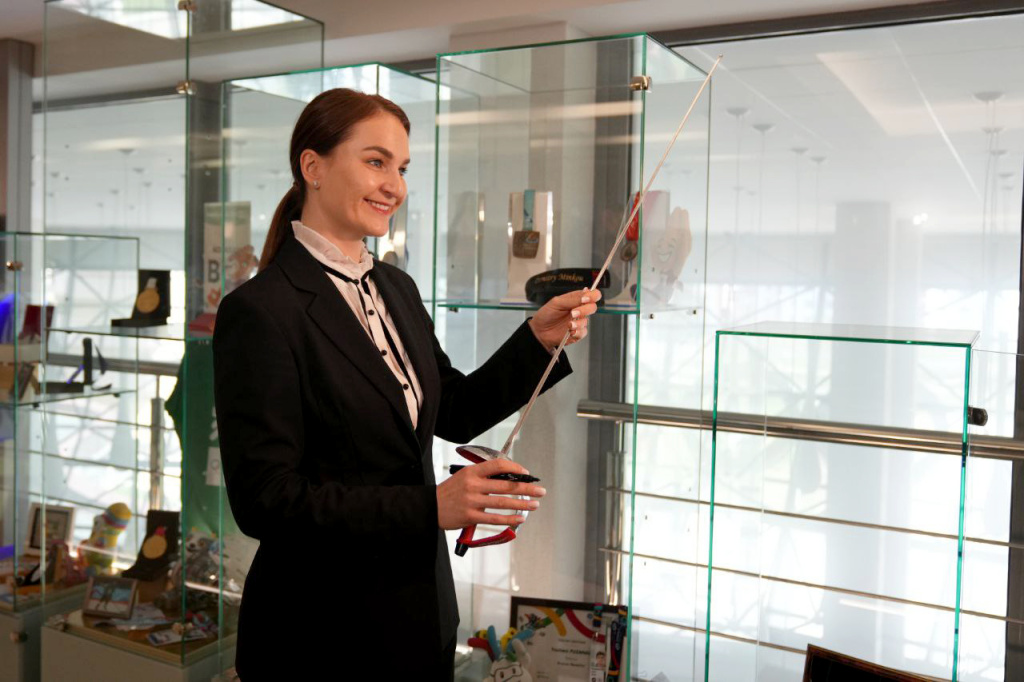 "I hope that this exhibit will be of interest and that many boys and girls will want to go in for sport, especially fencing," emphasized Sofia Velikaya.
On 27 April, the famous athletes visited the History Museum of the Great Patriotic War in the capital of Belarus.
ROC President Stanislav Pozdnyakov also made an entry in the book of distinguished guests of the Museum of the History of the Great Patriotic War.
Representatives of the Athletes Commissions together with NOC President Viktor Lukashenko and ROC President Stanislav Pozdnyakov laid flowers at the Minsk is a Hero City monument.
The children were especially looking forward to the evening clinics in many children's sports schools in Minsk.
Young athletes talked to Olympic champion and received practical advice from world sports stars from Sofia Velikaya (fencing), Roman Vlasov (Greco-Roman wrestling), Yevgeny Korotyshkin (swimming), Alexander Legkov (cross country), Yuriy Borzakovskiy (athletics), Andrey Moiseyev (modern pentathlon), Lada Zadonskaya (speed skating), Anastasia Maximova (rhythmic gymnastics), Stanislava Konstantinova and Alexander Samarin (both figure skating). The young atlantes said their advice proved useful and they will be able to apply new knowledge in practice.
For example, the clinics in fencing and wrestling, which were held in the athletics arena of the Belarusian State University of Physical Education, were attended by the heads of the Olympic committees Viktor Lukashenko and Stanislav Pozdnyakov.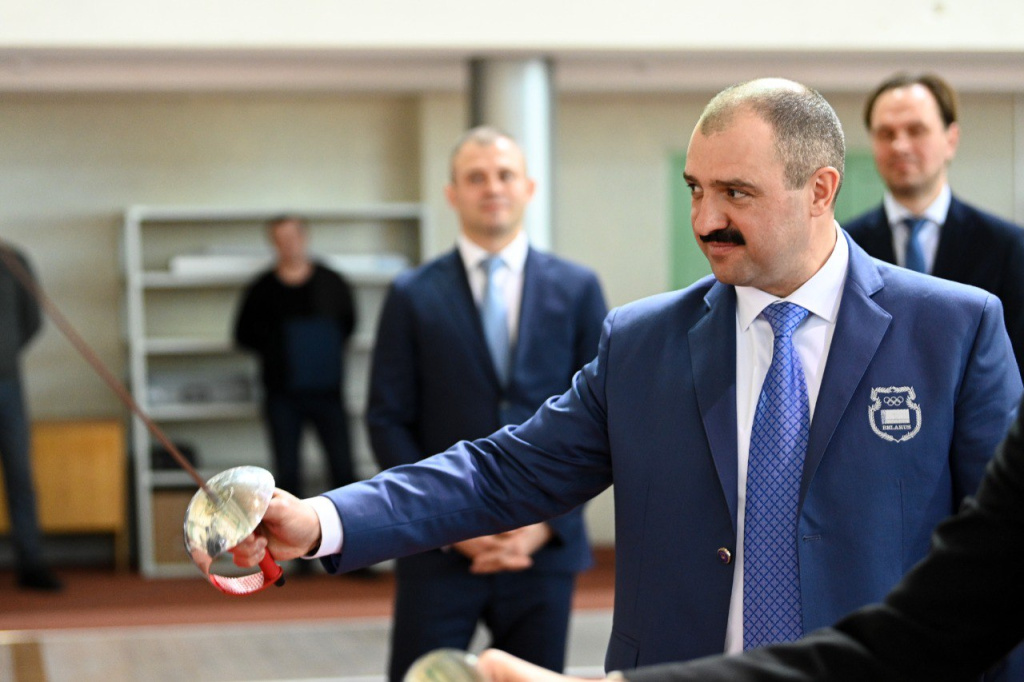 Heads of the Olympic committees together with young athletes also learned the finer points of Greco-Roman wrestling.
"I give clinics at least once a month, no matter where I am," two-time Olympic champion Roman Vlasov told the media. "In my life these events were the key ones. As a child I met Aleksandr Karelin, and later, after making it to the Russian team, I got advice from the champions, and there was nothing more valuable. That's why today I consider it my duty to support young people, to share experience and knowledge. I know that children are waiting for me. Anyone who aspires to become a champion, I'm sure, has attended such events. You know, there's even a belief that if you touch a champion, you will get a part of his luck, energy and strength. After all, I don't come from a wealthy family myself - my mother raised me and my brother alone. It was a tough childhood. Wrestling was my only chance to get out into the world. Therefore my clinics are not only about wrestling, but also about life. I think young people find them useful. The main thing I want to convey: in life everything is possible if you are prepared to give it all.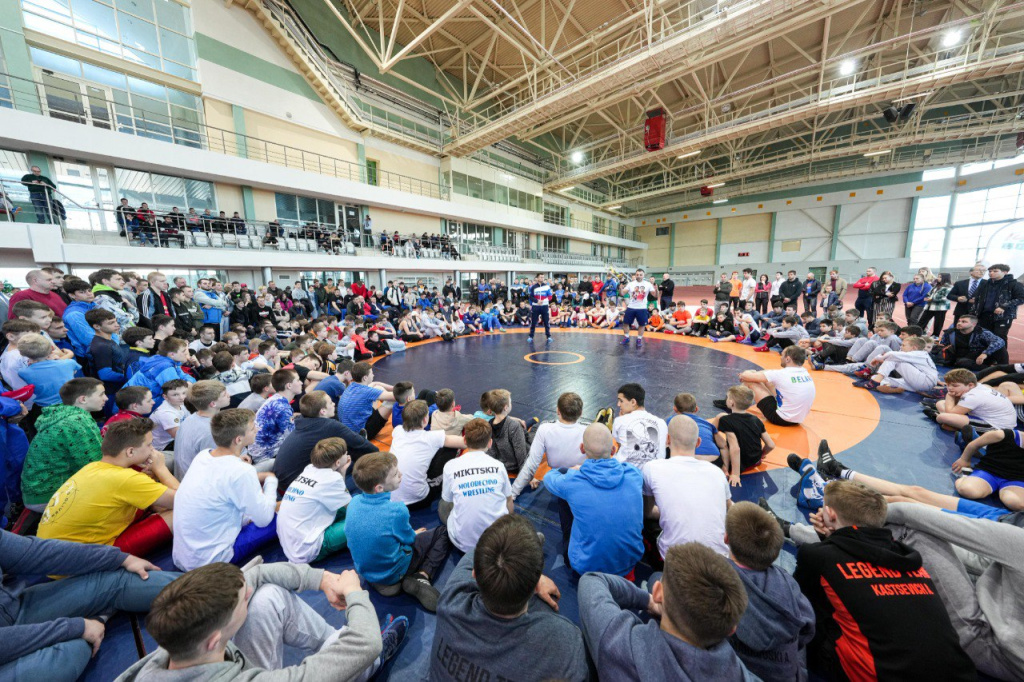 Clinics for young athletes were also held in athletics, cross-country, figure skating, speed skating, modern pentathlon, swimming and rhythmic gymnastics.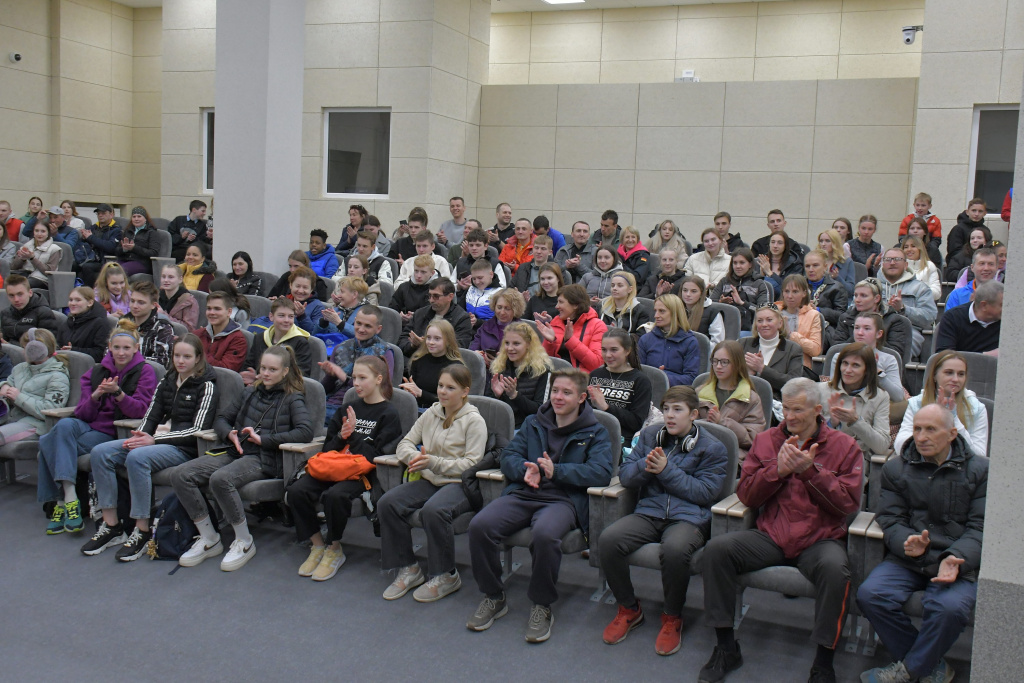 Press service of the Belarus NOC.
Photos by NOC of Belarus, BelTA, Belarusian Gymnastics Association, SB-Belarus Today, Skating Union of Belarus