The National Olympic Committee of the Republic of Belarus has announced the results of a social media campaign held in order to express nationwide passion and support for Belarusian athletes at the Games in PyeongChang.
The action had started 50 days before the PyeongChang 2018 Opening Ceremony was celebrated. On 22 December 2017, the NOC Belarus called on sports fans, winter sports amateurs and youth unions to provide moral aid for the national Olympic team through social media platforms vk.com, facebook.com, instagram.com.
As a result, over 2500 Belarusians have posted their wishes of good luck tagged with #разамзкамандай, which means "together with the team". According to the statistics, a typical supporter of the Belarusian team is a secondary or higher education student, who loves or does sports.
Besides, in frames of the action, it was arranged the mass sports festival in Raubichi for young skiers of Minsk region.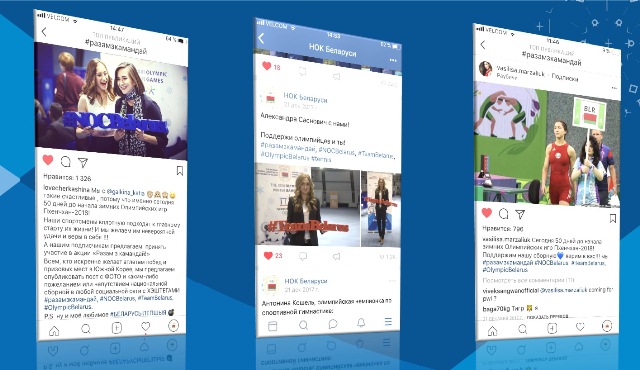 Apart from youngsters, a number of Belarus' outstanding people upheld the campaign:
first Belarusian Olympic champion of Rome 1960 in canoeing Sergey Makarenko;
Nagano 1998 and Turin 2006 medalist in freestyle aerials Dmitri Dashinski;
London 2012 champion in tennis mixed doubles Max Mirnyi;
London 2012 bronze medalist and President of the FIG Athletes' Commission Liubou Charkashyna;
London 2012 and Rio 2016 bronze medalists in kayaking Maryna Litvinchuk, Volha Khudzenka, Marharyta Makhneva;
Rio 2016 silver medalist in women's wrestling Maryia Mamashuk;
winners and medalists of World and European Championships rhythmic gymnast Katsiaryna Halkina, sailor Tatiana Drozdovskaya, wrestler Vasilisa Marzaliuk.
All the posts, photos and letters were printed to decorate the wall in the apartments of the Belarusian team in PyeongChang and motivate the national sports idols to perform at top of their abilities throughout the Olympiad.
Along with the support campaign, the NOC Belarus prepared online tests dedicated to the Winter Games and Belarusian Olympians. More than 5500 people have already checked their knowledge of the Olympic Games, Movement, principles and values.